We are Dorthe and John Jabina, the owners of The Jabina Kennel. The kennel was started in 1991 and at that time we were breeding Rottweilers.

The breeding of Rottweilers was soon pretty successful and we are proud to announce that we did breed the "Rottweiler of the Year", furthermore one of our "pups" became Danish Tracking Champion for all breeds and in addition, Dorthe qualified her female "Bona" to the World Championship for Rottweilers.

Our 6th litter was a German shepherd litter and that was in 1994.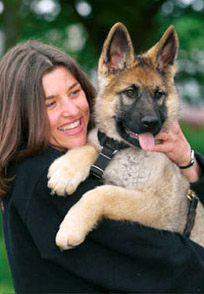 Twice Dorthe participated in the Danish National for SchH 3, (1997 and 1998) where she placed 2nd and 5th with Jabina Frigga. In 1997 Dorthe participated in the FCI World Championship and here she achieved 96 points in Obedience and 97 in protection. Dorthe's last competition was in 1998 at the WUSV World Championship in Boston, USA, after that Jabina Frigga was retired at only 4 years of age, as Dorthe found out that there are more important things in the world than dogs: our son Marcus and later also our daughter Frederikke came to the house in Roskilde.

In 1998, John bought back "Jabina Lewis" from a nice guy who thought that "Lewis" was too much of a dog. In 2000 and 2001 John took part at the FCI and the WUSV World Championships with Lewis. They were a team in the 2000, 2001, and 2002 Nationals and qualified for 2003 but unfortunately Lewis became very sick a month before the Nationals and had to end his career.

In 2000 we had the great fortune that "Jabina Biene" was Danish Champion and furthermore she placed 6th at the WUSV World Championship in Baunatal, Germany.

Again in 2004 and 2005 John and now "Jabina Nova" had the great luck to represent Denmark at the World Championships. In addition, John also placed 2nd with his young male " Jabina Falco" in the 2005 Nationals- this lead to a place on the danish WUSV team in Hagenau, Frace.

The Jabina Kennel has the great pleasure to be the leading kennel in Denmark, when we compare numbers of Participants at the Danish National Championship. We are very proud of the fact that several times we have won the trophy for the best female by the Danish National Championship, as we feel that your kennel is never better than your breeding females.

The following "Jabina" dogs have been participants at the World Championships.
Jabina Lewis

Jabina Biene

Jabina Frigga

Jabina Omega

Jabina Bona

Jabina Nova

Jabina Fisther

Jabina Fjolle

Jabina Querry

Jabina Dighte

Jabina Oscia

Jabina Yena

Jabina Freddie

Jabina Otta

Jabina Penti

Jabina Diezel

Jabina Rooney

Jabina Fanta

Jabina Orry

Jabina Becca

Jabina Ursa

Jabina Falco

Jabina Oswald

Jabina Fee

Jabina Zlatan

Jabina Liara

Jabina Zlatan

Jabina Kiwi
Our Goal:

We try to breed a healthy dog in a healthy body. Coming from the most healthy and vital bloodlines with the longest longevity. Our dogs normally have a lot of useable drives, are mentally strong and full of power.
Our dogs can do it all: Outstanding family pets with the ability to compete at the highest competition level!!

Guarantee:

We do only breed with the best females – and use only stud dogs that are healthy and have shown their workability.

Of course all our dogs are frequently vaccinated and up to date with all necessary shots and wormings, etc.

We offer a 2 year guarantee on all pups sold ( Hips, elbows and drives ) and the puppy owner can – with out giving any reason -return their dog back to us before the pup turns 2 years of age and get all their money back or a new pup.