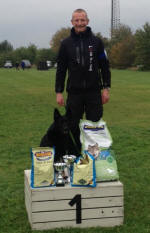 DM / VM selections were held in Group 59-Grindsted . Everything was in order and everyone was incredibly sweet and helpful.

The competition was won by Thomas Jorgensen with Jabina Liara, a 25 months old bitch described as something of a Promethean.

Thomas with Liara, not yet 2 years old in June, won the Denmark championship in IPO 1 for all breeds . They then followed with a very nice IPO 2 trial and now this- a fantastic start to hopefully a large dog's sporting career.

In the top 10, at this DM / VM event, we found no less than 6 dogs from our kennel.

Out of 26 dogs who qualified for the German Shepherd Club of Denmark's IPO 3 Danish Championship in May 2016 came the 10 dogs from our kennel - and figuring mathematically I think there is reason to be very proud that our kennel currently accounts for almost 40% of the dogs :)

Here, I give a huge thank you to so many of Denmark's best dog handlers, for again and again choosing to buy a dog with us.